Female
Daszeńka Słońce Sajan*PL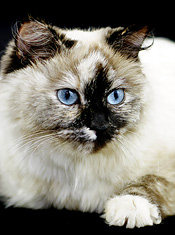 Title: Inter Champion
Color: NEM f - seal tortie
Date of birth: 03.06.2007
Father: CH Ballantine's Duma Cara *PL
Mother: CH Peperonia Kocia Eminencja*PL
Pedigree: (PL)FPL RX 1148

USG HCM i PKD - negatywny
FIV i FeLV - negatywny
Grupa krwi - A
Dasza is our first Siberian cat. She has marvelous colour with black and white beard. She arrived to us as small, sweet globule and still is perceived as the sweet –tempered one. We are amazed at her gentleness and patience. She bore hugs of love of our small children with bravery and patience. It never occured that kitty scratched or bit them. Dasza seems to be extremely nice and mild. She chose me as her host. Dasia loves being on my knees if only she manage to jump on .Although Dasia is a great fondling, she doesn't sleep in none of our beds. But in the morning we hear her shrilling voice asking for food. After breakfast she likes to sit on balcony – no matter if the sun shines or frosty weather is.
Siberian cats are called "dogs in feline skin". Dasza has one such marvelous "dog's" custom: when we unlock doors of the house, she sits under them and waits on us even if is sleepy. It is really heartening. To make Dasia's life more joyful we decided to bring her friend. Coco was frightened and she kept away from all but Dasza accepted her at once. After few days they made friends witch each other and Dasza started behave as a mother.
During I Special Show Neva Masquarade in Bydgoszcz 16.09.2007 Daszeńka was chosen The Best She-cat of 3-6 months cats class. We were very proud of her.
Litters: Litter F Litter B Litter V Litter R Litter N Litter L Litter K